KEEP YOU SKIN LOOKING IT'S BEST WITH SKINCARE PRODUCTS FROM VIVID SKIN & LASER CENTER!
SKINCARE
At Vivid Med Spa of Arizona, we offer a range of dermatology-grade skincare lines to help you look and feel your best at home! Explore our different skincare lines, including Rhonda Allison and PCA, and ask your aesthetician which products might be best for you.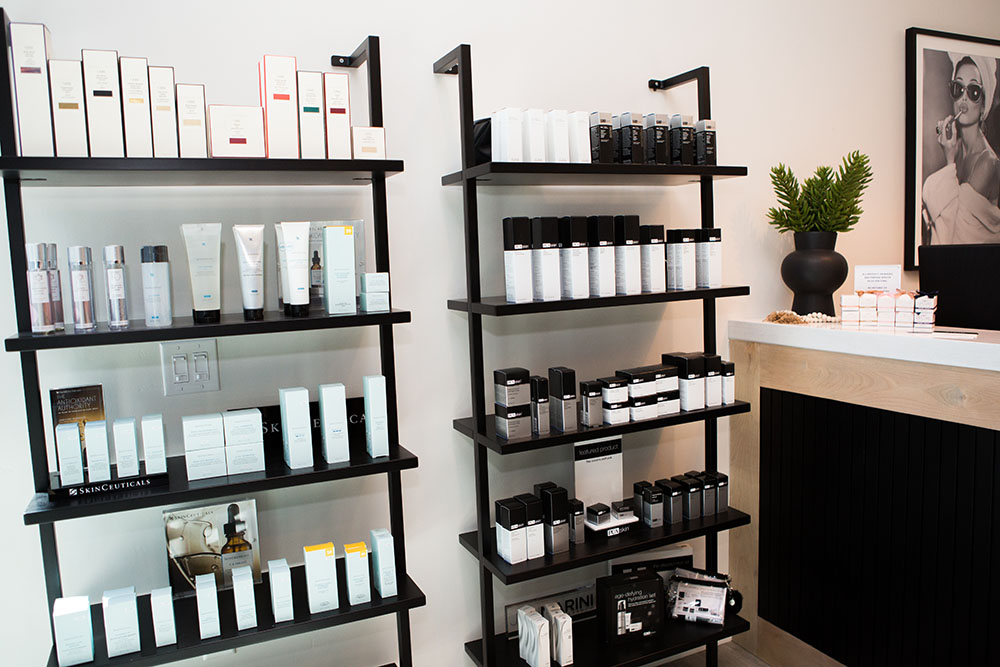 RHONDA ALLISON
Rhonda Allison offers a range of FDA-approved skincare products and professional treatments rooted in science-based skin care and quality ingredients to help you transform your skin. As a part of the aesthetic industry for over 30 years, Rhonda Allison has participated in countless research and developed a strong understanding of clients' skincare needs. Whether it is a refreshing chemical peel or an at-home cleanser and toner, all of these products deliver results and do not include dyes, artificial coloring, or fragrances.
PCA SKINCARE
Founded by an aesthetician and developed by a dermatologist, PCA is an innovative line of peels and at-home skincare to cater to the needs of all skin types, ethnicities, and conditions. An in-house Ph.D. Chemist designs all products. They combine effective ingredients for unparalleled results. We offer everything from cleansers, exfoliants, and chemical peels; there are undoubtedly PCA Skincare products that are right for you. Talk to our aestheticians about these products today!
What Are The Benefits of PCA Skin Care
Humectant Properties
The sodium salt of pyroglutamic acid is also known as sodium PCA that is hygroscopic. It attracts moisture from the surrounding area and retains the water for your skin and hair. Each individual has a unique natural moisturizing factor or NMF; using Sodium PCA can help the person boost their NMF. The natural moisturizing factor is determined by amino acids, protein, sugar, and lactic acid. These natural lipids help you lead a healthy life and maintain nutrient-rich, hydrated skin.
Using sodium PCA can make your skin look supple and hydrated because you develop a healthy epidermis. Our skincare products in our skin care clinic contain a low concentration of sodium PCA that allows you to pass the benefit to the inner layers of your skin. Our skin care clinic in Arizona, offers custom PCA treatment to its customers. We have a different branch in Chandler. You can even visit our skin care clinic in Chandler to take up your scheduled appointment with our experts.
Anti-aging Quality. 
The experts at our skin care clinic in Chandler report that the natural levels of Sodium PCA in our skin decrease as we grow older. However, we offer medically proven skincare products at our skin care clinic in Chandler to help you replenish them. Sodium PCA is water-absorbent; therefore, it absorbs lots of moisture while you take a shower and then locks it inside your skin. As a result, your skin looks hydrated and youthful.
Protects Skin Barrier
Sodium PCA is a critical ingredient for maintaining the health of your skin's intracellular region. It prevents your skin from losing water and acts as a skin barrier. On the other hand, Sodium PCA allows you to develop intercellular lipids that connect your cells and keep them intact. As a result, the outermost layer of your skin remains healthy. Apart from these benefits, Sodium PCA also decreases the risk of bacterial attacks.
Treats Eczema
Eczema is a skin condition where the person experiences skin irritation, inflammation, and unwanted skin scaling. Our experts at our skin care clinic in Chandler have closely examined the effectiveness of anti‐inflammatories and how they can cure mild to severe eczema. We can combine Sodium PCA with a few other barrier protective elements to deliver impeccable results. 
We can help you reduce the signs of eczema, which include skin roughness, itching, and inflammation. At Vivid Med Spa, we have dealt with numerous cases of eczema. Many of our clients report that they have seen an overall improvement in the appearance of their skin. After regular usage of our PCA products, they have seen an increase in hydration levels.
Controls Inflammation. 
Our Sodium PCA products work well for various conditions. From acne skin care to skin inflammation, it offers many benefits. Let's talk about dealing with inflammation. Our PCA products protect your delicate microflora, a bacteria that resides in your body. Microflora acts like a defense system for your body that fights pathogens and toxins. It supports your immune system and controls inflammation.
For more information about our skincare lines or to schedule a consultation call (480)-930-7546.
PROFESSIONAL SKIN & LASER CENTER
At Vivid Skin and Laser, our mission is to provide you with the most advanced aesthetic and laser techniques to help you achieve beautiful and healthy skin.