Best Med Spa in Phoenix, Arizona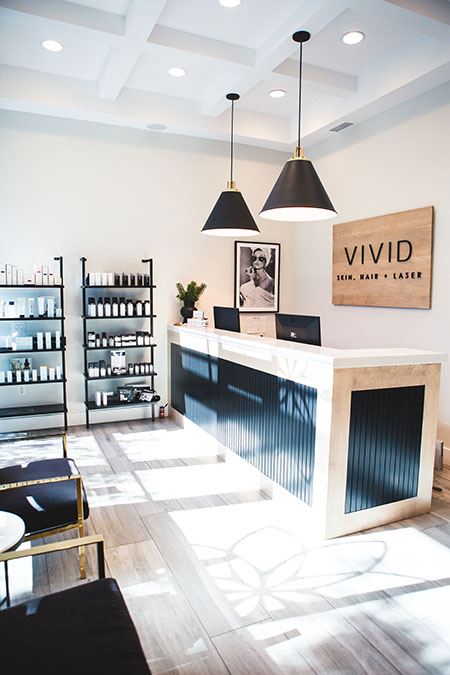 ABOUT
Vivid Skin, Hair and Laser Center Story
The Vivid Skin, Hair and Laser Center is the premier med spa in Phoenix, Arizona. We are a results-driven, full-service medical spa with a passion for enhancing our client's natural beauty. Our med spa is located in two convenient locations across the Valley to make health and beauty easily accessible to all of our clients. Our team of expert medical professionals helps you achieve a healthier and fresher appearance. Vivid Med Spa of Arizona offers all things, from cosmetic procedures to eyelash extensions, hair, and injectable services. Our commitment to our clients is to provide luxurious services at affordable prices and deliver a comfortable environment where your best interest is first.
VIVID MED-SPA & LASER CENTER IN PHOENIX, ARIZONA
Treat yourself to the very best when you visit Vivid Med Spa of Arizona! Our highly trained staff is here to help you learn more about our versatile laser services, spa treatments, and skincare options. We are a luxury aesthetic spa with top-of-the-line laser equipment and skillful, practiced professionals who consistently work to ensure that you are 100% satisfied. Whether you are interested in laser hair removal, eyelash extensions, facials, we want your beauty experience to leave you glowing!
What Can A Med Spa Do For You?
Rejuvenate Your Mind And Body
A med spa offers an atmosphere that plays a critical role in rejuvenating the individual receiving the spa treatment. Today, a med spa can provide you with a calming and relaxing experience to complement your medical treatments. At our med spa in Chandler and Arizona, we have medically trained experts who offer professional advanced aesthetics procedures for optimum peace of mind! 
All our clients get to experience a stress-free environment that helps them to speed up their recovery and gain psychological benefits. If you visit our medspa in Chandler and Arizona, you'll notice an amalgamation of traditional and medical spa treatment. Over the years, we have been successful in enhancing our offerings. 
We love to take things a notch higher; hence, our offerings are more than face care or massages. At our med spa, we utilize innovative and cutting-edge technology based on proven clinical treatments aligned with the modern methods of medical care. We also cater to specific nutrition, and health care needs to rejuvenate your mind and body.
Enjoy All Anti-aging Benefits.
Apart from rejuvenation, a med spa can help you slow down aging and its effects. At our med spa in Chandler and Arizona, we offer anti-aging treatments performed under the supervision of medical experts. 
Have you been shelling out too many dollars on face care without any results? Visit us and discover our cosmetic anti-aging therapies and advanced aesthetic procedures. 
These therapies will not only beautify your appearance but will also strengthen your self-esteem. At Vivid Med Spa, we have a team of licensed physicians who help you resolve skin problems like wrinkles, dark spots, blemishes, and broken capillaries. Experience our non-invasive face care treatments and witness the positive outcomes yourself.
Treats Chronic Hair and Skin Issues
We can effectively treat chronic issues at our med spa by offering holistic body wellness programs. Our med spa in Chandler can offer your personalized treatment if there are any chronic hair or skin issues. 
We can also derive the underlying problems that may have contributed to these issues. That will help our med spa experts to curate a custom spa approach for your long-term well-being. At our Chandler medical spa, we perform minimally-invasive medical treatments with zero risks. Our goal is to speed up your long-term recovery without any trouble.
Provides a Positive State of Mind
Unlike other clinical centers or traditional spas, our mind and body wellness programs are customized to your health goals. We offer a wide range of sessions that help you receive complete physical and mental well-being. With the help of our qualified specialists, you can achieve mental and physical peace.
Get our tailored wellness plans at our med spa In Chandler and Arizona. We offer custom massage, face care, skincare, Oxygeneo facials, eyelash extension, and much more. We have two convenient locations so that you can visit us at our Chandler Vivid Skin, Hair and Laser Center.
Love this place. I recently had a hydra facial here and it was magical. The inside is beautiful. Trendy and calming. Not sterile and cold as many other skin care offices can be. My lady was fab and did an amazing job. Can't wait to go back for my next facial.
I get my lashes done here and I absolutely love this place! Customer service is outstanding and I love the vibe from the staff! I always feel beautiful and I get a guaranteed lash nap with there comfy beds and blankets. Super cute style they have for the office too!
I have definitely found my new favorite spot for skin treatments and injections! Vivid Skin and Laser has a beautiful facility that makes you feel so welcome. The staff is amazing and professional! I'm so happy I found this place!
Get Texts From Vivid
Be the first to know of exclusive sales, discounts and events
VIVID SKIN & LASER CENTER
MED SPA IN PHOENIX, ARIZONA