SAY GOOD-BYE TO CHIN FAT WITH
KYBELLA
Want a more streamlined facial profile? Do you feel self-conscious about the appearance of your double chin? Then it's time to discover Kybella treatments for chin fat at Vivid Skin & Laser Center!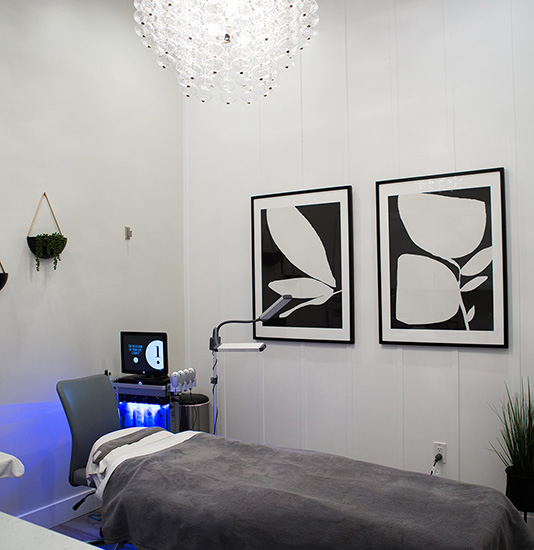 HOW DOES KYBELLA WORK?
Kybella is a proven and effective fat reduction treatment that's the first of its kind. This FDA-approved injection uses deoxycholic acid to dissolve stubborn submental fat cells. Metabolic processes remove fat cells over a period of 8 to 12 weeks, leaving you with a more contoured and defined facial profile. Most clients only need one Kybella injection to start seeing excellent results.
WHAT IS THE PROCEDURE LIKE?
Kybella injections take less than 30 minutes to administer, making it an excellent treatment option for patients on the go. The area underneath the chin will be treated with a numbing cream to help manage any discomfort associated with the injections. Kybella is injected into key areas underneath the chin to maximize fat reduction.
WHAT DOES RECOVERY LOOK LIKE?
Kybella involves no downtime, so it's easy for busy clients to fit it into their schedule. Clients may experience bruising, swelling, redness, and itching at the injection site. These side effects shouldn't last for longer than a week. Some clients report feeling a tingling sensation, which is a sign that the deoxycholic acid is dissolving fat cells.
HOW MANY TREATMENTS WILL I NEED?
Most clients will start seeing results with 1 Kybella treatment. Some clients may need two or three injections to see optimal results.
Is Kybella Right For Me?
You're a good candidate for Kybella injections if you're in good health, follow a healthy lifestyle regimen, and have excessive submental fat underneath the chin and around the jawline. Kybella is only approved for use on chin fat.
To learn if Kybella injections are right for you, schedule a consultation with Vivid Skin & Laser Center today!
PROFESSIONAL SKIN & LASER CENTER
At Vivid Skin and Laser, our mission is to provide you with the most advanced aesthetic and laser techniques to help you achieve beautiful and healthy skin.