That night in college. Your crazy ex. That time you were "going through a phase." We all have regrets, but if yours are in the form of an unwanted tattoo, we've got you covered. Laser Tattoo Removal is quick, easy, and noninvasive thanks to our advanced laser technology.
Here are just a few reasons we love it.
Targets your tattoo ink while leaving surrounding areas unaffected
Leaves your skin looking uniform & natural
Is noninvasive & non-surgical
Works with most skin tones
Works on all skin types
Produces dramatic results with multiple sessions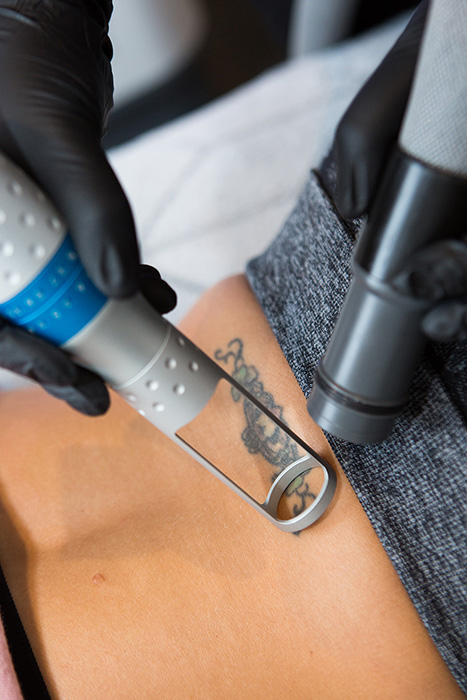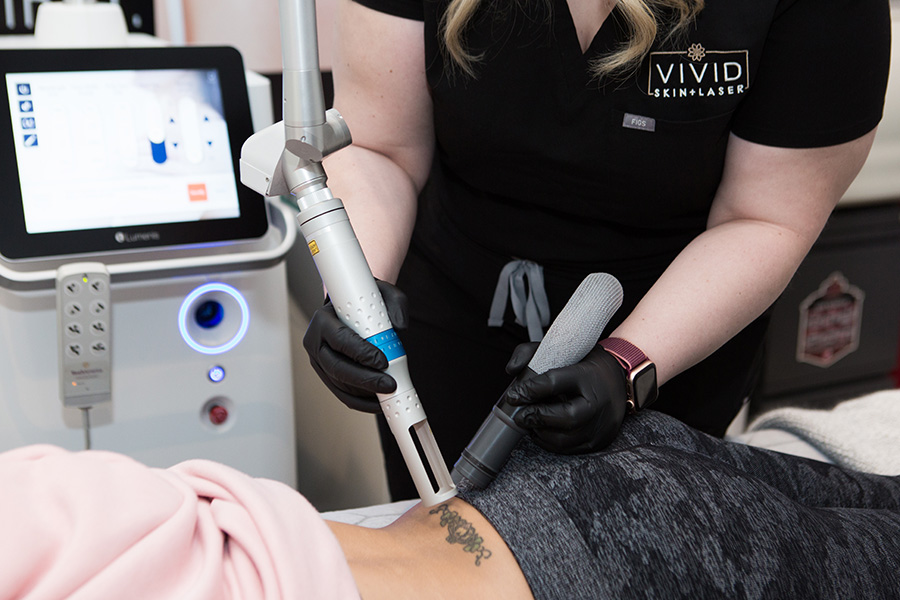 What You Can Expect
While we know you want to ditch that ink like yesterday, Laser Tattoo Removal is a gradual process that depends mainly on your tattoo's location, depth, density, and ink colors. For example, black ink is the easiest for our lasers to target, whereas colored ink can be more complicated. When you come in for your free consultation, one of our specialists will walk you through the process and help determine the predicted number of treatments your tattoo is expected to take to fade or remove.
*Results and patient experience may vary.
STEP ONE: YOUR FREE CONSULTATION
You'll start your tattoo removal experience by coming in for a free consultation with one of our specialists. There, they will assess your tattoo's location, depth, density, and color to predict approximately how many treatments are expected for your tattoo to fade or be removed.
STEP TWO: YOUR TREATMENT
At the beginning of your appointment, your clinician will apply an anesthetic cream to the area of your tattoo. You'll also be given protective eye gear and a cooling device. Once the anesthetic cream starts doing its thing, your clinician will get to work, using the laser to deliver pulses to the tattoo's pigment. Is it painful? It can be a bit uncomfortable, but most people find it tolerable—it's often described as a sensation similar to a rubber band snapping against your skin. The laser pulses depend on the tattoo's size, but most treatment sessions only last a few minutes.
Once your treatment is over, you'll need to begin the after-care process right away. Click ahead for what you'll need to do before and after your treatment.
What To Do Before Your Appointment
What To Do After Your Appointment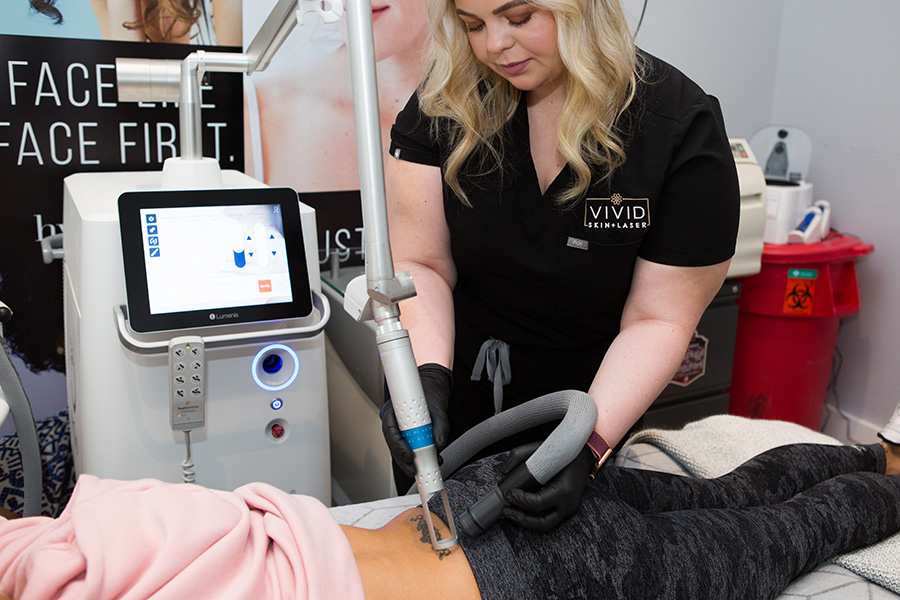 So glad you asked! Laser Tattoo Removal is pretty simple—our lasers use light and heat to selectively break up and disperse tattoo pigment while leaving surrounding areas unaffected, a process called selective Photothermolysis.
Laser Tattoo Removal works by targeting pigment colors in the skin's dermis, which lies between your outer layer of skin (epidermis) and the tissue beneath. The tattoo pigments absorb the laser's beam and fragment. Your body then naturally absorbs these fragments and eliminates them.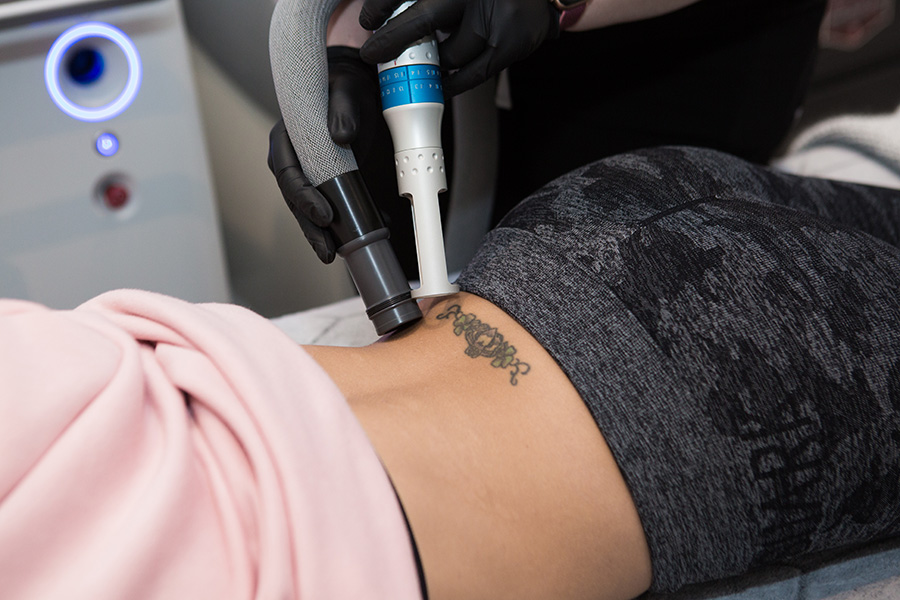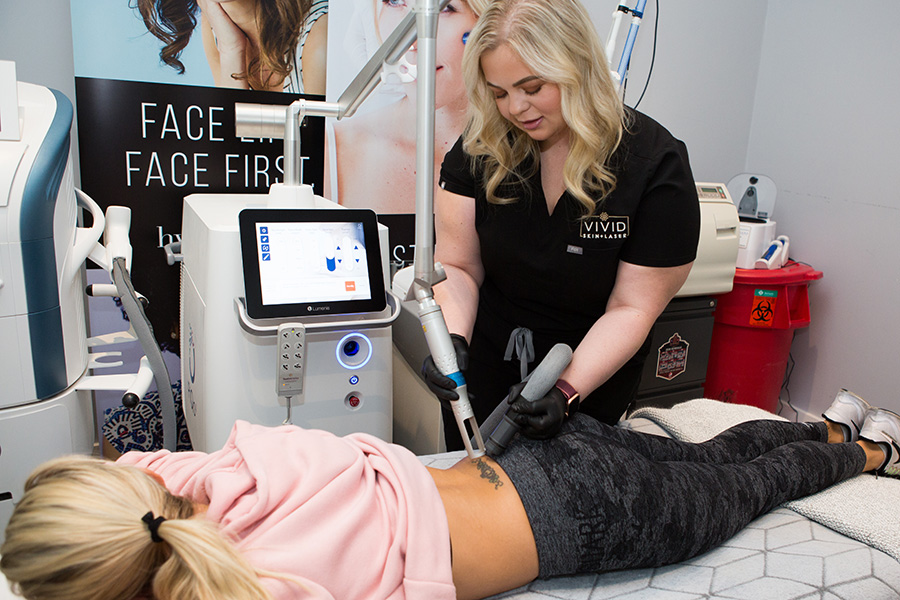 We primarily use the Astanza Duality, a state-of-the-art dual-wavelength Q-switch laser that produces exceptionally high peak power light pulses. Because Q-switch lasers are so precise and intense, tattoo pigments fragment instantly, and the surrounding tissue is spared.
Why Should You Consider Tattoo Removal?
Getting Over a Past Relationship
You often lose people you think will remain in a relationship with you forever. In many cases, people who go through divorce or breakups are left with permanent tattoos of their ex. We have seen many couples who get the same tattoo as their companion or get each other's name tattooed. Just like wedding rings, the tattoo culture has also taken over. Instead of buying wedding rings, many couples get a tattoo around their fingers. When these relationships end, individuals don't associate with those tattoos. Therefore, the best way to get rid of them is by taking up a tattoo removal treatment.
Change in Taste
It is pretty natural for you to get bored of your tattoo after a specific period. Many people make mistakes when they are young or change as they mature. In such cases, taking up a tattoo removal procedure is the best. Don't worry about your tattoo removal cost; visit us at our clinic for tattoo removal in Chandler and Arizona. We have a med spa known as Vivid Med Spa of Arizona, where you can find tattoo removal experts to consult with.
Change in Personality
As discussed above, everyone's personality changes after a specific time. People grow up or realize that now they have changed or lost interest in certain things close to them. They don't want a tattoo to represent what they are at the moment. A one-time tattoo removal cost can help them showcase a personality they want to show.
Social Perception
As much as we don't care about how people perceive us, some employers do not find visible tattoos appropriate for their clientele.  Neck tattoos, face tattoos – in some careers you may need to conceal them. However, getting a laser tattoo removal may be the better option. For tattoo removal in Chandler or Arizona, you can visit Vivid Med Spa. Our experts can help you out with your tattoo removal. Your tattoo removal cost may depend on the area or the ink quality of the tattoo.
PROFESSIONAL SKIN & LASER CENTER
At Vivid Skin and Laser, our mission is to provide you with the most advanced aesthetic and laser techniques to help you achieve beautiful and healthy skin.