SMOOTHER, WRINKLE-FREE SKIN WITH
JUVEDERM
Stop turning to over-the-counter serums and creams for help with wrinkles. Get the kind of noticeable results that will turn heads with Juvederm injections at Vivid Skin & Laser Center!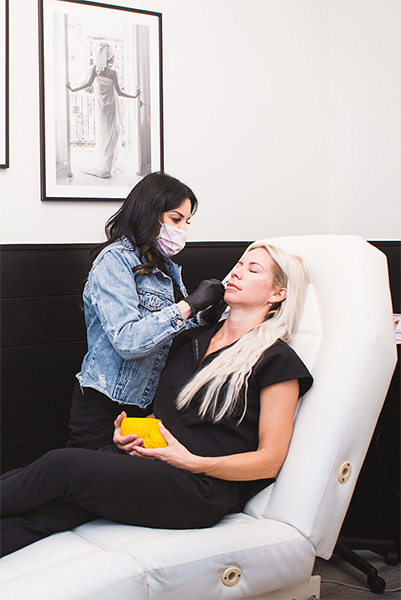 HOW DOES JUVEDERM WORK?
Juvederm is a dermal filler that contains hyaluronic acid gel that instantly adds volume to the injection site. Hyaluronic acid is a naturally occurring compound that triggers long-term collagen production within the skin, helping to create younger-looking skin.
The gel acts as scaffolding underneath the skin, in that it instantly lifts facial wrinkles and folds. Juvederm is commonly used on the folds between the nose and the mouth, cheek wrinkles, and other areas where aging is noticeable. Results can last between six to twelve months.
WHAT IS THE PROCEDURE LIKE?
Juvederm injections take between 15 to 30 minutes to administer. The area underneath the chin will be treated with a numbing cream to help manage any discomfort associated with the injections. Juvederm is injected into specific facial areas to help address wrinkling and loss of volume.
WHAT DOES RECOVERY LOOK LIKE?
Juvederm involves no downtime, making it an excellent anti-aging solution for people on the go. Clients may experience bruising, swelling, redness, and itching at the injection site. These side effects shouldn't last for longer than 24-48 hours.
HOW MANY TREATMENTS WILL I NEED?
Clients will only need one Juvederm treatment to see results. Regular injections will be required every six to twelve months in order to maintain results.
Is Juvederm Right For Me?
You're a good candidate for Juvederm injections if you're in good health and have stubborn wrinkles and folds around the nose and mouth.
To learn if Juvederm injections are right for you, schedule a consultation with Vivid Skin & Laser Center today!
PROFESSIONAL SKIN & LASER CENTER
At Vivid Skin and Laser, our mission is to provide you with the most advanced aesthetic and laser techniques to help you achieve beautiful and healthy skin.