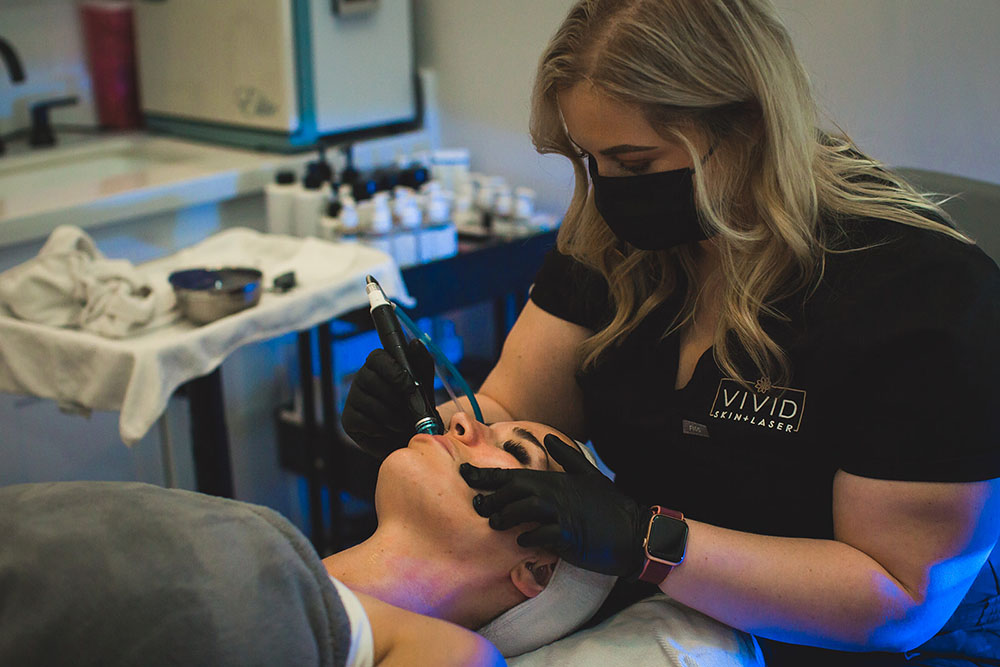 WHAT IS A SPRAY TAN?
Rather than tanning under the sun or in a tanning bed (which is super dangerous for your skin!), a spray tan allows you to achieve that golden glow without putting your health at risk.
At Vivid Laser Center, our spray tan technicians use Norvell products to help get the glow you're looking for. This line of award-winning sunless tanning products uses organic ingredients to bring out your most beautiful golden glow. Norvell leads the way in innovative sunless tanning solutions; many of their products are used by celebrities and featured on fan favorite shows like "Dancing With the Stars".
WHAT IS A SPRAY TAN LIKE?
Your spray tan will take less than 30 minutes to administer. It's administered by a spray tan technician, who will ensure that your tan is evenly applied and adjusted to give your most natural glow. After the spray tan is applied, you'll need to avoid taking a shower and exercising for 6 to 12 hours. The longer you leave your spray tan on, the deeper the resulting tan.
Preparing For Your Spray Tan
Before undergoing your spray tan procedure, it's recommended that you avoid wearing makeup, deodorant, lotion, and any other products that could interfere with how the sunless tanning product interacts with your skin. You should also wear loose, comfortable clothing.
HOW LONG WILL RESULTS LAST FOR?
Your spray tan will last between five to ten days, depending on your maintenance. To help prolong the life of your spray tan, keep your skin hydrated with lotion. Dry skin tends to accelerate the spray tan's removal.
Ready to get your glow on? Schedule your spray tan appointment with Vivid Skin & Laser Center today!
PROFESSIONAL SKIN & LASER CENTER
At Vivid Skin and Laser, our mission is to provide you with the most advanced aesthetic and laser techniques to help you achieve beautiful and healthy skin.