Arizona's Top Med Spa!
VIVID MED SPA
Located in Gilbert, Arizona
Best Med Spa in Gilbert, Arizona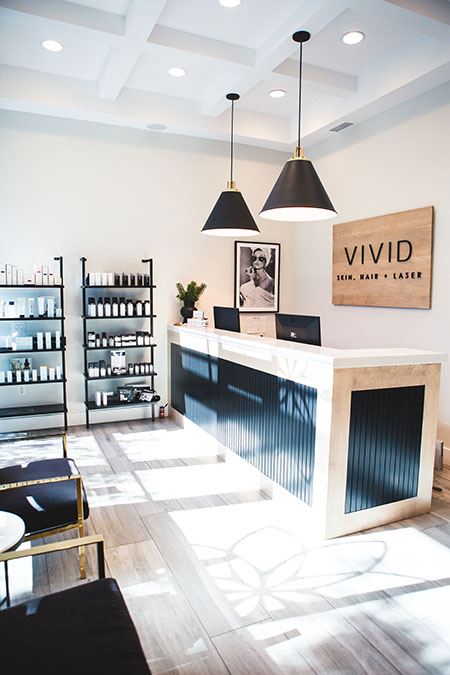 ABOUT
The Vivid Med Spa of Arizona Story
The needs of our patients are always our top priority. That's why we ensure all our services are carried out in a clean and relaxing environment so you can leave looking and feeling your best. Vivid Med Spa of Arizona was possible because of Maegan Booth's passion for beauty & aesthetics, combined with her husband Shaun's business background. We hope our patients will enjoy our luxurious spa facility, highly trained & friendly staff, and the most advanced aesthetic treatments in the valley.
VIVID MED-SPA & LASER CENTER IN GILBERT, ARIZONA
Treat yourself to the very best when you visit Vivid Skin Hair & Laser Med Spa in Gilbert, Arizona! Our highly trained staff is here to help you learn more about our versatile laser services, spa treatments, and skincare options. We are a luxury aesthetic spa with top-of-the-line laser equipment and skillful, practiced professionals who consistently work to ensure that you are 100% satisfied. Whether you are interested in laser hair removal, eyelash extensions, facials, we want your beauty experience to leave you glowing truly!
Are You Looking For A Skin Care Clinic In  Gilbert or Chandler?
Get Customized Skin Care for Yourself
The Vivid Med Spa of Arizona provides you with professionals who can deal with your skin concerns and give a custom formula using their years of expertise. Most clients' skin type lies between the range of normal to oily skin, however, we have clients who have severely dry skin issues too. We offer custom plans that include multi-step procedures that fit your unique skin needs. We have two Skin Care Clinics in Gilbert and in Chandler. Since April of 2017, we've helped our clients rejuvenate rough skin, Hyperpigmentation, age spots, skin redness, and dull complexion. We've also helped them reduce their fine lines and wrinkles. 
We Offer Skin Brightening Ingredients To Fight Skin Problems
Apart from skincare therapies, our Skin Care Clinic in Gilbert and Chandler offers state-of-the-art skincare products. They contain medically proven ingredients and come with powerful active ingredients. These ingredients combine to help you overcome skin clarifying and brightening issues. Get a holistic skin care treatment at our Skin Care Clinic in Chandler and Gilbert, Arizona. We would love to host you!
Vivid Med Spas in Gilbert and Chandler for Professional Care.
A medical spa offers a professional environment that is relaxing for your mind. At Vivid Med Spa of Arizona, we offer ambiance and services that keep you calm and re-energize you from within. Instead of visiting your regular clinic where doctors and staff keep hurrying around, you can visit our medspa to get your custom, tailor-made wellness plan. We can perform a complete body analysis to offer you a personalized program. Our Gilbert or Chandler Med Spa shall provide you with professional support in the best way possible.
Are You Looking For A Facial Spa In Gilbert, Arizona?
If you have been looking for a facial spa in Gilbert or Chandler, you must experience Vivid Med Spa. We offer spa facials that will reduce fine lines and wrinkles on your face. Our facials will stimulate your skin cells to boost natural regeneration. Our facial treatments offer deep cleanse and various massages to activate the cells present in your skin tissues. Don't wait; visit our facial spa in Gilbert or Chandler to find the best ways to keep your skin young and fresh.
We Offer Tattoo Removals In Gilbert
Are you planning to undergo a tattoo removal procedure? We offer tattoo removals in Gilbert And Chandler, Arizona. We use non-invasive laser technology that aligns with the best industry standards. Our tattoo removal process is less painful than other traditional methods, and we deal with all types of inks. We have more than a hundred clients who have undergone the same process. Don't wait; get the safest ways of tattoo removal at Vivid Med Spa of Arizona. Were you searching for the best tattoo removals in Gilbert or Chandler? We are here to help you! Walk into any one of our clinics to take up our expert consultation. 
Hair Removal In Gilbert
For medical spas that offer hair removal in Gilbert or Chandler, Arizona, feel free to contact us. We use state-of-the-art techniques and laser tools that do not cause any scarring, blistering, or changes in skin texture. Our experts at our center for hair removal in Chandler and Gilbert offer treatment for excessive hair growth, removing hair patches in specific areas, and other hair-related problems.
Injectables In Gilbert
If you were looking for FDA-approved fillers or dermal injectables In Gilbert or Chandler, worry no more as we are here! Our wide range of dermal fillers is 100% safe and licensed. At Vivid Med Spa of Arizona, we have licensed healthcare professionals who perform all your filler procedures.
Love this place. I recently had a hydra facial here and it was magical. The inside is beautiful. Trendy and calming. Not sterile and cold as many other skin care offices can be. My lady was fab and did an amazing job. Can't wait to go back for my next facial.
I get my lashes done here and I absolutely love this place! Customer service is outstanding and I love the vibe from the staff! I always feel beautiful and I get a guaranteed lash nap with there comfy beds and blankets. Super cute style they have for the office too!
I have definitely found my new favorite spot for skin treatments and injections! Vivid Skin and Laser has a beautiful facility that makes you feel so welcome. The staff is amazing and professional! I'm so happy I found this place!
VIVID SKIN & LASER CENTER
MED SPA IN GILBERT, ARIZONA